Welcome to Quist Antiquarian, or, as our Website is called "Antiquarianquist".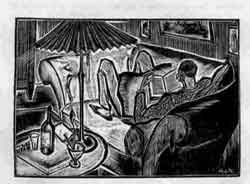 Our company was established in Rotterdam, in the year 1970. During the first (10) years we sold Antiquarian books only, gradually the prints "moved in" and, over the years we've managed to acquire a tremendous collection. Ranging from fine Master prints, dating back as far as the XVI-Th. Century, right up to modern Masters as (e.g.) Andy Warhol.

There's a fine and large Cartographical collection, listing not just the great Dutch masters, as well as a stock of town plans and city views from all over the Globe, there are also fine bird- and botanical prints, and I'll say it again ALL items genuine and fully guaranteed, fitting their description, and all items are virtually for sale in our widely known Gallery (no "ghost titles")

We've recently moved from the Rotterdam Centre to an elegant, well preserved, and meticulously restored XVII-th. Century former Bakery-Shop in the historic heart of the oldest town in the Province of Holland; Dordrecht, it sure enhances our collection and is located close to a number of well known galleries, the renowned Dordrecht Museums, and, still only 20 minutes from the thriving Rotterdam Centre. (a 12 minutes train ride!)

We are currently expanding our modest collection of Paintings, Watercolours and Drawings, and there is the Sculptures section, listing pieces from the Art Nouveau and Art Deco period.
We made no attempt to list our complete stock at the website; it is more a show case, to let you see what we like, it is an invitation to browse, to provoke you to ask us what else is there in our "Secret Cabinet" Just ask us, and, maybe you're able to "score" that one piece, you thought you'd never get...

As our Golden Rule; ALL items are fully guaranteed and fitting their description, as you, undoubtly would expect us to do. Should an item (any!!) prove unsatisfactory/ill described, a full cash back guarantee will be granted, we do underwrite the International "Code Of Honour" as implied by serious Antiquarians from all over the world.
Our legendary, vast, reference library, that served various well known scholars and Art Historians, is still expanding, as is our knowledge and expertise and stock.

We sincerely do hope you'll enjoy our pages, and if the piece you're looking for is not (yet) listed, please do not hesitate to ask (additional) pictures and/or a condition report for the pieces shown here, they're easily send via E-Mail. Anyway, we'd love to hear from you.

Kindest regards, Ernie Quist.

Antiquist
(An"ti*quist) n. An antiquary; a collector of = antiques. [R.] Pinkerton.